---
BGD e-GOV CIRT got full membership from FIRST
Bangladesh Computer Council (BCC) is taking necessary measures to improve Bangladesh's capability to manage the risks related to digital revolution and deal with fast growing cybercrime. Bangladesh e-Government Computer Incident Response Team (BGD e-GOV CIRT) was established at BCC under the project "Leveraging ICT for Growth, Employment and Governance Project (LICT)".
What is BGD e-GOV CIRT?
The Computer Incident Response Team (CIRT) investigates and resolves computer & cyber security incidents.
CIRT entity is a key function for securing digital environment on the digital domain of the country.
BGD e-GOV CIRT mission is to support government efforts to develop and boot ICT programs by establishing incident management capabilities within Bangladesh, which will make these programs more efficient and reliable.
Service providing from BGD e-GOV CIRT:
Monitor the network for the events that affect security of the National Data Center (NDC) or services deployed in the NDC facilities;
Carry out investigations and containment measures for cyber security events in order to minimize data loss or service disruption, including authority to provide obligatory instructions for BCC personnel to secure NDC information resources during major cyber security incidents.
Help to recover from incidents which takes part in the NDC;
Carry out preventive measures in order to minimize disruptions of secure operations of the NDC;
Assist maintaining security infrastructure of the NDC;
Participate in international cyber security initiatives;
Build a cyber security workforce competence for establishment of National CIRT of Bangladesh.
Recently, BGD e-GOV CIRT got full membership from the global Forum for Incident Response and Security Teams (FIRST) on date 22-05-2016. Later, FIRST offered fellowship to BGD e-GOV CIRT team. On behalf of BGD e-GOV CIRT, the one member has joined 28th Annual FIRST Conference which takes place at June (12th – 18th) in Seoul, South Korea.
Benefits from the FIRST membership:
FIRST provides a forum for facilitating trusted interactions among incident response and security teams.
FIRST hosts an annual Conference on Computer Security Incident Handling.
FIRST Technical Colloquia provide a discussion forum for FIRST member teams to share information about vulnerabilities, incidents, tools and all other issues that affect the operation of incident response and security teams.
New incident response and security teams can benefit from membership to FIRST by improving communication with peer teams, and exchanging ideas and practices.
The collection of teams which compose FIRST provides expertise covering a wide variety of incident response and security issues.
FIRST is designed to facilitate communication between incident response and security teams to assist in promoting prompt and effective resolution to computer security incidents
Recommended Posts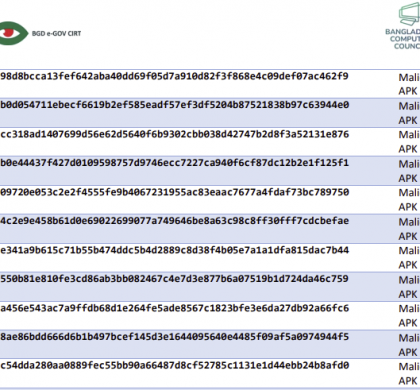 08 Aug 2023 - Articles, News, Security Advisories & Alerts, Uncategorized