---
One year of BGD e-GOV CIRT establishment
BGD e-GOV CIRT has successfully completed its one year on 27 July, 2016. An agreement between Bangladesh Computer Council & Norway Registered Development was signed on July 27 2015 for establishment of BGD e-GOV CIRT. According to the office order issued by Bangladesh Computer Council on 11th January 2015, a CIRT team was established under the project "Leveraging ICT for Growth, Employment and Governance Project (LICT)". The main objective to establish CIRT team was to manage cyber security incidents in Bangladesh government network and related infrastructure by investigation and containment measures. With this view, the CIRT team has accomplished important tasks through last one year. It is to be mentioned that on 28th June 2016 BGD e-GOV CIRT has received Government mandate published by Information and Communication Technology Division, Ministry of Posts, Telecommunication and IT, Government of People's Republic of Bangladesh.
BCC CIRT receives FIRST membership which is the global forum for Incident Response and Security Teams. As a process of cyber security investigation, it has scanned and reported vulnerabilities of almost 70 government websites. From January, 2016 the CIRT team has started to handle incident reports or tickets from different government organizations. Till now more than 200 incident tickets have been opened and about 25% of them have been successfully closed. CIRT team is also responsible for the training of government employees to increase security awareness. About 1100 Law Enforcement Agency and Government personnel have been trained on Cyber security, Digital Forensic, Vulnerability assessment & other Cyber Domains as a part of security awareness program. Technical training help from KrCERT, JPCERT, EC3, Europol & European Cybercrime Training Requirements for CIRT infrastructure (OS, VM, and DBs) were discussed, submitted and confirmed. Consultant team has completed translation of new draft 'Digital Security Act, 2015' from Bengali to English. There are a lot of tasks to be implemented by the CIRT team in the near future to ensure cyber security and to take proper containment measures.
BGD e-GOV CIRT is running onward with the aim to reduce cyber vulnerabilities and secure the Bangladesh Government Network.  Hopefully it will amplify its workspace and will help to take preventive measures in order to minimize disruptions of secure on line operations throughout the county.
Recommended Posts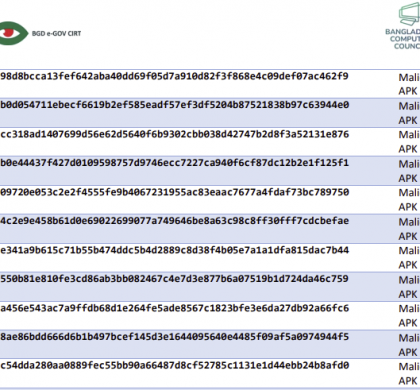 08 Aug 2023 - Articles, News, Security Advisories & Alerts, Uncategorized