---
New Android Malware : Infected Million of Google Play Store Users
Android users who have mistakenly downloaded and installed malware on their devices straight from Google Play Store has reached 2 Million. The users have fallen victim to malware hidden in over 40 fake companion guide apps for popular mobile games, such as Pokémon Go and FIFA Mobile, on the official Google Play Store, according to security researchers from Check Point.
Affected Applications :
Check Point researchers discovered five additional apps containing the FalseGuide malware on Google Play Store, developed by "Anatoly Khmelenko". FalseGuide attempts to turn infected devices into a botnet that could allow its operator to control the devices without the knowledge of the device owners. Check Point has provided a full list of malicious apps hiding FalseGuide, which posed as guides for :
FIFA Mobile
Criminal Case
Super Mario
Subway Surfers
Pokemon Go
Lego Nexo Knights
Lego City My City,
Ninjago Tournament
Rolling Sky
Amaz3ing Spider-Man
Drift Zone 2
Dream League Soccer and many more.
The malware creates a "silent botnet out of the infected devices" to deliver fraudulent mobile adware and generate ad revenue for cyber-criminals and can also allow its operator to control the devices without the knowledge of the device owners.
How to Protect yourself against such Malware
Update all the listed apps, which are installed on your mobile. Beside that, following instructions will help to mitigate the issue.

Always download apps which are from trusted and verified developers and stick to trusted sources, like Google play Store and the Apple App Store.
Always verify app permissions before installing apps. If any app is asking more than what it is meant for, just do not install it.
Keep a good antivirus app on your device that can detect and block such malware before it can infect your device. Always keep the app up-to-date.
Do not download apps from third party source. Although in this case, the app is being distributed through the official Play Store, most often such malware are distributed via untrusted third-party app stores.
Avoid unknown and unsecured Wi-Fi hotspots and Keep your Wi-Fi turned OFF when not in use.
Be careful which apps you give administrative rights to. Admin rights are powerful and can give an app full control of your device.
Never click on links in SMS or MMS sent to your mobile phone. Even if the email looks legit, go directly to the website of origin and verify any possible updates.
Reference URL's:
Recommended Posts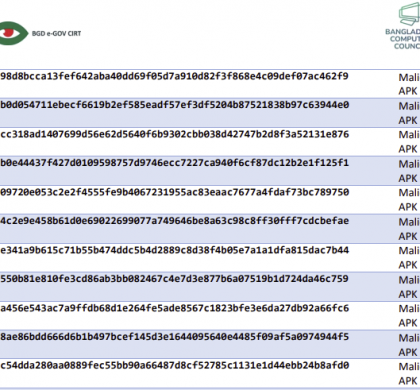 08 Aug 2023 - Articles, News, Security Advisories & Alerts, Uncategorized