---
Meeting on Bangladesh Cybersecurity Strategy 2021-2025 Responsibility Matrix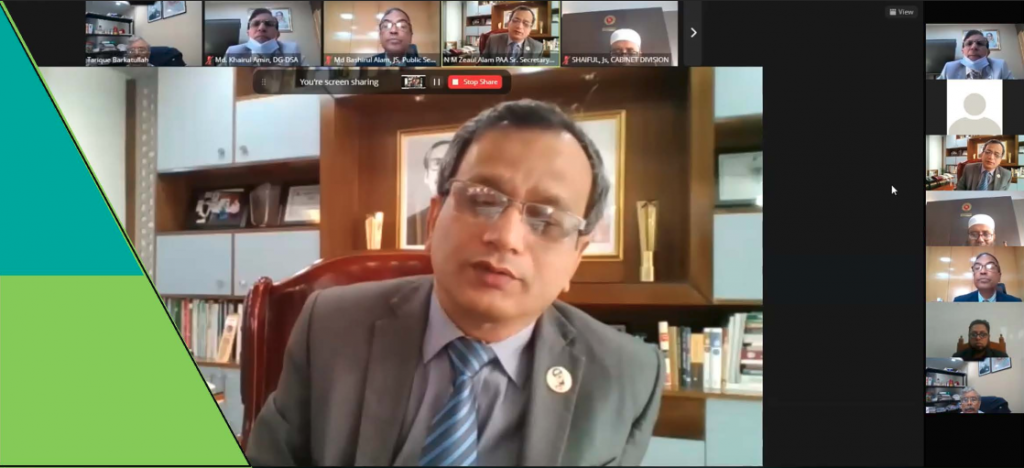 The government of Bangladesh has identified cybersecurity as one of the most serious economic and national security challenges that the country is facing. As a step towards Government's commitment to strengthen national cybersecurity, Bangladesh Cybersecurity Strategy 2021-2025 has been formulated to support the four pillars of the Digital Bangladesh initiative, which are Digital Government, Human Resource Development, IT Industry Promotions, and Connectivity & Infrastructure.
A meeting was held on 26 January 2022 under the chairmanship of Mr. NM Zeaul Alam PAA, the Senior Secretary of Information and Communication Technology Division, to determine the involvement and activities of various government organizations for the implementation of cybersecurity strategy. The meeting was attended by related officers from different government organizations.
Mr. Tarique M. Barkatullah, Director, Digital Security Agency (DSA), gave a detailed presentation on the strategy. He said that the strategy paper has singled out 28 activities through 10 cybersecurity strategies to combat cybersecurity threats.
The Digital Security Agency (DSA) under the Department of Information and Communication Technology will play a key role in implementing the activities and various ministries, departments, and governmental and non-governmental organizations will be involved in the activities as collaborating agencies.
The chair of the meeting Mr. NM Zeaul Alam PAA, Senior Secretary, Information and Communication Technology Division hoped that all the Ministries / Divisions / Departments would assist in the implementation of various activities of the strategy and provide recommendations on refinement and finalization of the proposed responsibilities.