---
EC Council to train over 100 Top Government Officials of Bangladesh in combating cyber threats

EC Council and BGD e-GOV CIRT have recently signed a MoU, with a joint vision to provide ANSI Certified C|CISO certification to Bangladesh Government's top security professionals across ministries, that are eligible for the course. The attendees of the course will range from business, police, military, paramilitary forces, telecom and other top government officials at leadership positions.
Under the scope of the MoU, the courseware provided in EC Council's C|CISO 4-day workshop is developed with the aspiring CISO in mind.  The course looks to transfer the knowledge of seasoned professionals to the next generation in the areas that are most critical in the development and maintenance of a successful information security program.
According to Md Tawhidur Rahman, Team Leader, BGD e- GOV CIRT, "While the number of cybersecurity professionals are growing day by day (in Bangladesh), the conspicuous skill gap is alarming'. A huge chunk of Bangladesh's population today, does not have clarity in matters pertaining to cybersecurity. BGD e- GOV CIRT is trying to improve this scenario by hosting regular trainings and conferences, aimed at spreading awareness about Cybersecurity Education."
Ranked 53rd on the Global Cybersecurity Index by International Telecommunication Union (ITU), Bangladesh's economy is under a constant threat of a cyber-attack. Ever since some hackers stole $80 Million from Bangladesh Central Bank in 2016, the threat of another major cyber-attack is felt equally by all organizations dealing in confidential data.
"EC-Council being one of the world's best cyber security training companies is renowned at home and abroad. We are sanguine of a fruitful partnership with EC Council in realizing the objectives of BGD e- GOV CIRT", added Mr. Tarique M. Barkatuallah, Director, Bangladesh National Data Centre, CA and Security.

About EC-Council
EC-Council has been the world's leading information security certification body since the launch of their flagship program, Certified Ethical Hacker (CEH), which created the ethical hacking industry in 2002. Since the launch of CEH, EC-Council has added industry-leading programs to their portfolio to cover all aspects of information security including EC-Council Certified Security Analyst (ECSA), Computer Hacking Forensics Investigator (CHFI), Certified Chief Information Security Officer (CCISO), among others. EC-Council Foundation, the non-profit branch of EC-Council, created Global CyberLympics, the world's first global hacking competition. EC-Council Foundation also hosts a suite of conferences across the US and around the world including Hacker Halted, Global CISO Forum, TakeDownCon, and CISO Summit.
For more information about EC-Council, please see https://www.eccouncil.org
About Bangladesh E-Government Computer Incident Response Team (BGD e-GOV CIRT)
Bangladesh E-Government Computer Incident Response Team (BGD e-GOV CIRT) is the government organization that is responsible for the management of Cyber Security in Bangladesh government's e-Government network and related infrastructure. Other major objectives of BGD e- GOV CIRT are to serve as a catalyst in organizing national cybersecurity resilience initiatives (education, workforce competence, regulation, cyber exercises) among various stakeholders.
About EC-Council's Certified Chief Information Security Officer
The CCISO Certification is an industry-leading program that recognizes the real-world experience necessary to succeed at the highest executive levels of information security.
Recommended Posts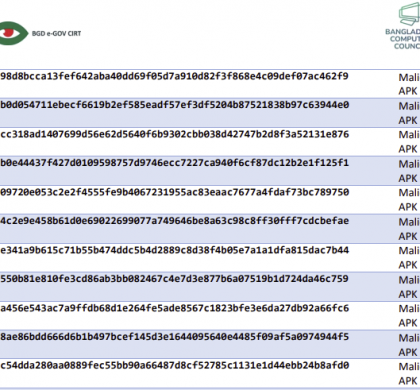 08 Aug 2023 - Articles, News, Security Advisories & Alerts, Uncategorized