---
GlobeImposter ransomware
The GlobeImposter ransomware family first appeared around August of 2017. In early 2019, GlobeImposter ransomware underwent extensive modifications, after which the authors re-released it, causing havoc around the world.
Ransom.GlobeImposter is a ransomware application that will encrypt files on a victim machine and demand payment to retrieve the information.Ransom.GlobeImposter may be distributed through a malicious spam campaign, recognizable only with their lack of message content and an attached ZIP file. This type of spam is called a "blank slate." Ransom.GlobeImposter is also distributed via exploits and malicious advertising, fake updates, and repacked infected installers.
Ransom.GlobeImposter may run silently in the background during the encryption phase and not provide any indication of infection to the user. Ransom.GlobeImposter may prevent the execution of Antivirus programs and other Microsoft Windows security features and may prevent system restoration as a means to solicit payment. Ransom.Cryptomix may display a warning after successful encryption of the victim machine.
The majority of antivirus products and Windows' built-in anti-malware application, Windows Defender, has been updated to identify the GlobeImposter application strings and block the malware.All servers need patching to the latest security levels. Proper patching ensures that your version of Microsoft Windows has protection against the latest known vulnerabilities. A regular update schedule should include daily antivirus updates, and sysadmins might want to consider deploying integrated anti-malware technology and endpoint monitoring solutions.
Known Indicators of Compromise (IoCs):
Indicator of compromise (IoC) in computer forensics is an artifact observed on a network or in an operating system that, with high confidence, indicates a computer intrusion.
| | |
| --- | --- |
| Indicator type | Indicator |
| IPv4 | 5.9.48.4 |
| IPv4 | 149.210.142.219 |
| IPv4 | 216.70.71.55 |
| IPv4 | 83.243.58.155 |
| IPv4 | 23.235.47.133 |
| URL | http://team-bobcat.org/ |
| URL | http://team-bobcat.org |
| domain | uni-erlangen.de |
| IPv4 | 131.188.10.71 |
| IPv4 | 131.188.12.211 |
| IPv4 | 131.188.12.239 |
| IPv4 | 131.188.16.206 |
| IPv4 | 131.188.3.151 |
| IPv4 | 131.188.3.222 |
| domain | pe.hu |
| hostname | player.youku.com |
| domain | 3overpar.com |
| domain | aatrailerrepair.net |
| domain | accessyouraudience.com |
| domain | atlantarecyclingcenters.com |
| domain | bit-chasers.com |
| domain | bodywork-sf.net |
| domain | brilliantact.com |
| domain | debralittleart.com |
| domain | dimsemenov.com |
| domain | enixgaming.de |
| domain | firesidecreations.com |
| domain | floraisdobrasil.com |
| domain | funds4u.org |
| domain | jakearchibald.com |
| domain | jonathanpuckey.com |
| domain | maniasoccer.de |
| domain | marijnhaverbeke.nl |
| domain | matthewdohertydesign.com |
| domain | matthewlein.com |
| domain | maule.biz |
| domain | miamirecyclecenters.com |
| domain | n224ezvhg4sgyamb.onion |
| domain | netzgesta.de |
| domain | npms.io |
| domain | paperjs.org |
| domain | platinumrainbow.com |
| domain | robertpenner.com |
| domain | summi.space |
| domain | team-bobcat.org |
| domain | troyriser.com |
| domain | veyon.io |
| FileHash-SHA256 | 221702a6c83a6672a18ad5d7dae845500bd28d8a43771a6538ff73b39bae9bef |
| FileHash-SHA256 | 2647a739d660c72d13dee6d59cf2595866ca2f23f7873abd29562a0af6147e2a |
| FileHash-SHA256 | 28ad339049643cb7170fa2c3421ac8958a190b16d89062c13876b08f2f4f296f |
| FileHash-SHA256 | 2dfa46f818bcb239a10268c1dde3c14e355cd9fd85a99daf9910533e33ff7f49 |
| FileHash-SHA256 | 36e7fd99744fc8dd13ae0fda656850bd37f622402696e821457d2a8a5b766dce |
| FileHash-SHA256 | 4441b07f2e893226e40d862827724e6b19bf6cc8038d8ab40548335265c06d57 |
| FileHash-SHA256 | 5208ced12d2b45fc4e2a38fc4ff585b2a20b11415d1b4a7e8124f26b62b3387c |
| FileHash-SHA256 | 534d40e735f85926173f79951eb3452fbc17a646fd878d742e3d4bc0ef5b97d4 |
| FileHash-SHA256 | 5444f5438c63e39684deef31876ef15148d7fd21582f29c038da0e8142cf3484 |
| FileHash-SHA256 | 549a2956a5cd985db0065c9d9fb10de1d3070d030bd7ad84a961d71e01c02b18 |
| FileHash-SHA256 | 60db26dce2504e02fc49a44b932a1e9ef734ef3446dc3e6a5beff2ae10c12ec6 |
| FileHash-SHA256 | 65846f35d3f8c2f97df92ac8f598dfdd164c11013937dd378bbad26d5504539a |
| FileHash-SHA256 | 67bd78bbc8a2f3a4173702d90ff4ecd4952ec66f466ee95739b9bc276da29f2c |
| FileHash-SHA256 | 697b97aee465f1206ce03aca86c0a70acff776976c9be42fc8fd18f0ec3aa813 |
| FileHash-SHA256 | 6a92c61f8dece91aff691e3c4d4f3faf078f8015966fa4bd5693f6ae8d70be25 |
| FileHash-SHA256 | 6fad2148f03e8d038436c6621c5b54fc7b159efc52e44b97deee9e189940aaf2 |
| FileHash-SHA256 | 79dc628b3b4b8433dea959583fbefa0b6435536f56229bc1e07013ade666df93 |
| FileHash-SHA256 | 7d4cb1b866a7e31a6cc04b7c96e382f7199e4d3c403e5e1ddd1ebc9f9c71ab7e |
| FileHash-SHA256 | 7e98c4a53f503c19099c2a0c2e3771453c64b0f324f11ad035e83808b889ba5b |
| FileHash-SHA256 | 931312342a1b3f221b6c96d8f9307cbcadd41404854f8ddc79e3797fe8e7dd9a |
| FileHash-SHA256 | 9565d30de6dfdc3c90b9e702daed8f79c02876d06f9ce83748e97b3d5ecab145 |
| FileHash-SHA256 | 96ebbd612e3b165ee968e0d3100ca4c9d2517a844f70485538f29dbfbafd2716 |
| FileHash-SHA256 | 9f6b7dee83997586497c33e9bb043c53e76bb5cbdaaa8ab6dca6fba287d3af06 |
| FileHash-SHA256 | 9fda541bc5e75764bd4cd2eef4a08e9b060b1ad51cab14860bb6bf3bacab6a97 |
| FileHash-SHA256 | a7fe492ec0b85e28a1646bf02b5272ff84ffaeaa16de9d543eff6128ea63dfe5 |
| FileHash-SHA256 | a81244407566daaad828e6d91a87a2137578bef9973b3d0f964c047325bafb08 |
| FileHash-SHA256 | a9ea805621e05dafc3a4a50e979dfb451e8b82cc27b6821185b5ba5446a862f5 |
| FileHash-SHA256 | abee3bfd1c5c3d0ad52ab19b5bd9e64267b8bc114f70ba06b35af71462f4af6f |
| FileHash-SHA256 | b0fbebf0d123f2c70d12440eaa63e8e8a1445071711b6d0bb80a9e955e58ab40 |
| FileHash-SHA256 | bd95380de2a5f468909d256632ee0ffd8f059bf76e3a837bf9e40c5d44c59eed |
| FileHash-SHA256 | bd9df047d51943acc4bc6cf55d88edb5b6785a53337ee2a0f74dd521aedde87d |
| FileHash-SHA256 | ca231d7166a76e23c815b913c9c8bf9c2796e290194beb6d4b6c826a03d41652 |
| FileHash-SHA256 | d9bf19c3c6bc77b71b43b7765abe09cf270aa324c2cddc8e03342c3912e42555 |
| FileHash-SHA256 | e06b6fe41b5e732b54963c7147efb43fc702a17b3795baf2f42c1574908ca41f |
| FileHash-SHA256 | e3220e79165ae97a7ac4aa245dad3274cae206931dfd6fd5448ecbcf2951919f |
| FileHash-SHA256 | e81caebfcdb296e0f14d7ac917d6aeeaee4a520196227d1f570afb4fb5c32ff9 |
| FileHash-SHA256 | eae0de2ad4cd713a54c560237298c7d0e1909090ec338c44bc629fbb50e277fe |
| FileHash-SHA256 | eddb3d5b51d9be3139ba63f57b410ae06ddb3777c2adbd92981a2f0bcc7f4ef3 |
| FileHash-SHA256 | f085883d430d77c4482bc0021e781182854a0dab90a6810adf9d32872262c259 |
| FileHash-SHA256 | f24bc2e626dd023b14c47c4a308d3abfcebdc384e9709bc491451bf6a0a0c526 |
| FileHash-SHA256 | ff2a346ceb98fac13a464f6830b4f8c647c75313cef255570c3e093df628c2bd |
| hostname | 5thdistrict.americanlegionpost.org |
| hostname | d3.computerbild.de |
| hostname | d4.computerbild.de |
| hostname | data.sexkhung.com |
| hostname | fantomas.pe.hu |
| hostname | rrze.uni-erlangen.de |
| hostname | www.ericbritton.com |
| hostname | www.medialab.com |
| hostname | www.munte2.de |
| FileHash-MD5 | 1fee5319de5c62459605c1961087321a |
| FileHash-MD5 | 202b0df4a6e4500ef7138402b8731932 |
| FileHash-MD5 | 3556cb144b86970f7bef0d4725225aac |
| FileHash-MD5 | 41ba21f8e5928853cd4e9c6abda1cef4 |
| FileHash-MD5 | 5708fa59cbb91da4370603423caed6e4 |
| FileHash-MD5 | 572c0199497bcdc30e550864698ea893 |
| FileHash-MD5 | 587f10354eeec3743c821417ffd6e48a |
| FileHash-MD5 | 628ba96ae310050c99f9ed2ec779867d |
| FileHash-MD5 | 6d8b92ef465efb7896e0ea0a858e38d9 |
| FileHash-MD5 | 75ac3041041c7096406e49102ad78a0e |
| FileHash-MD5 | 7c40b40a67367340aea141ec343f533c |
| FileHash-MD5 | 88867bdbd30b3bef5db8da6480a6256e |
| FileHash-MD5 | 92af93d99373ee9159af395b05dd69a9 |
| FileHash-MD5 | 92bf249f6e2705311e71c3e7a81f3478 |
| FileHash-MD5 | 9750c27240d4a3cf704a38230b5bdaee |
| FileHash-MD5 | 985b9bcb7b399b2a3ff7dc8860238a64 |
| FileHash-MD5 | 99357ce58678fc5da0b560e43c422052 |
| FileHash-MD5 | 9d9ea64377bd2fcd46a387368eab9f29 |
| FileHash-MD5 | a0496f37c8665f2a20425312a391827a |
| FileHash-MD5 | a3aa141cbb40edac2c035cc24074b115 |
| FileHash-MD5 | b50e3a7c3405b3e69e2fb0adeb45137b |
| FileHash-MD5 | c606eba87f8aca421e31aa3d169b276d |
| FileHash-MD5 | c63fb5fcc55a1057d2c43366534c6b5f |
| FileHash-MD5 | c6ed77a2c4a4e1d67349fe39cba2a879 |
| FileHash-MD5 | cee1a7d794fc30a70047e7d51a73de02 |
| FileHash-MD5 | d330513d12e5fb8fada4e6f21c4bb8b4 |
| FileHash-MD5 | ddbb824d2da0f15686d44c417312ae16 |
| FileHash-MD5 | dde97fb2d93e3cbac39fa23340fa9a5c |
| FileHash-MD5 | df6a6d7a3ce801c6acec210206c6a7dd |
| FileHash-MD5 | df795447d365829378699ce74b39e60c |
| FileHash-MD5 | e6463c3d49709915866bc10c46ed839d |
| FileHash-MD5 | e729fba0bf9d4d7a9a7929ed70805400 |
| FileHash-MD5 | e928dd33b042856eb25791685b2886d9 |
| FileHash-MD5 | ebb8d18b4cd95edd24de980718b3aa5a |
| FileHash-MD5 | ec9b6d8dcdb2061488c66b3e026501aa |
| FileHash-MD5 | f4c31788d1a41c91a0cbe19b941f020c |
| FileHash-MD5 | ff5eb1d55310371d7b31d36d8ea9b7f5 |
| IPv4 | 185.27.16.26 |
| IPv4 | 185.5.160.26 |
| IPv4 | 198.23.241.227 |
| IPv4 | 212.224.65.254 |
| IPv4 | 98.124.251.167 |
| IPv4 | 98.124.251.176 |
| IPv4 | 98.124.251.75 |
| FileHash-SHA256 | 0489676bc892799b2f5efd81b70c425c21603492103f22647ee0365b6d5a39d6 |
| FileHash-MD5 | 06702a483d71b0f3b7f69dd5583fa40a |
| FileHash-SHA256 | 073a35a68e84bd65471554b17229c28e947bdb32b5b3bcdbf1f66ae005249a36 |
| FileHash-MD5 | 1075f4da3618f019b0e6597ccfe40f73 |
| FileHash-MD5 | 129e08b61d18640a7a142a50a92cbce9 |
| IPv4 | 103.198.0.2 |
| FileHash-MD5 | 1652eea1c0ff391d0597f76dd1f8a78b |
| FileHash-MD5 | 17194136db3d7742cd605b4633f2803e |
| hostname | ugf57wl6uexcj7fu.onion.link |
| URL | http://n224ezvhg4sgyamb.onion/sup.php |
| URL | http://summi.space/ |
| domain | pragmaticinquiry.org |
| email | evan-69@brilliantact.com |
| email | sheryl_56@rrze.uni-erlangen.de |
| email | gerard-14@aatrailerrepair.net |
| email | von.712@funds4u.org |
| FileHash-SHA256 | 2671d6928fdacbbf58af67bbbd35a80d04ad32c817d557218b0355b4c6d250f7 |
| FileHash-MD5 | 4c02ffe7a4ca4684968ecec7a0f900c0 |
| FileHash-SHA256 | 415a1eea78a8a216f0d54fa84a8139f55b32431b1258e1accf4e133720df7a41 |
| FileHash-MD5 | 69faa6c80df2cba7eda95a9204a536d5 |
| FileHash-SHA256 | cec816ff65918472f83477008082f3a3acbc37edd9a47bf0831a43f914503aa6 |
| FileHash-MD5 | 42a24464623bbc1b02a8461db052d357 |
| FileHash-SHA256 | 2a81c82c1ef052b1eabf490d8d888c0d311e840d02bfb0bca12bd60497a58950 |
| FileHash-MD5 | 8f59ad7e91a0a875e8389931f8086196 |
| FileHash-SHA256 | 18ef9d0649ea655ab0b8fea5e57ffb8a8493a0ac695863fb0290afe13d3bb01a |
| FileHash-MD5 | c99e32fb49a2671a6136535c6537c4d7 |
| FileHash-SHA256 | 8808e4e220fcda37bdb05b703e86053f88a6ebd68037d37ef89754c459d7ad2b |
| FileHash-MD5 | 1934bc240ae9e8e101490a9dab13c079 |
| FileHash-SHA256 | c2e56510866a6e038ac723a3e5a2ac66b14f407b91886077727f622f561164e3 |
| FileHash-MD5 | 187f488e27db4af347237fe461a079ad |
| FileHash-SHA256 | 255a65d30841ab4082bd9d0eea79d49c5ee88f56136157d8d6156aef11c12309 |
| IPv4 | 93.126.130.165 |
| IPv4 | 14.142.116.214 |
| IPv4 | 122.166.191.161 |
| IPv4 | 122.176.154.148 |
| IPv4 | 98.124.252.145 |
| IPv4 | 23.50.187.27 |
| IPv4 | 23.35.105.121 |
| IPv4 | 93.184.221.200 |
Reference:
Recommended Posts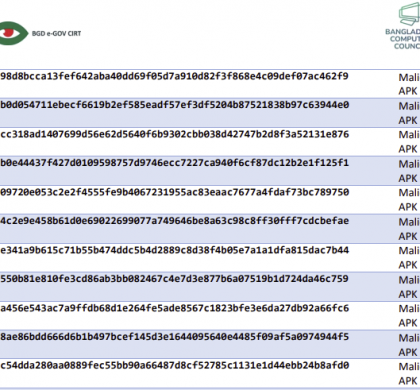 08 Aug 2023 - Articles, News, Security Advisories & Alerts, Uncategorized