---
Apple Releases Important iOS 11.2.6 Update for Special Character Bug [source: forbes]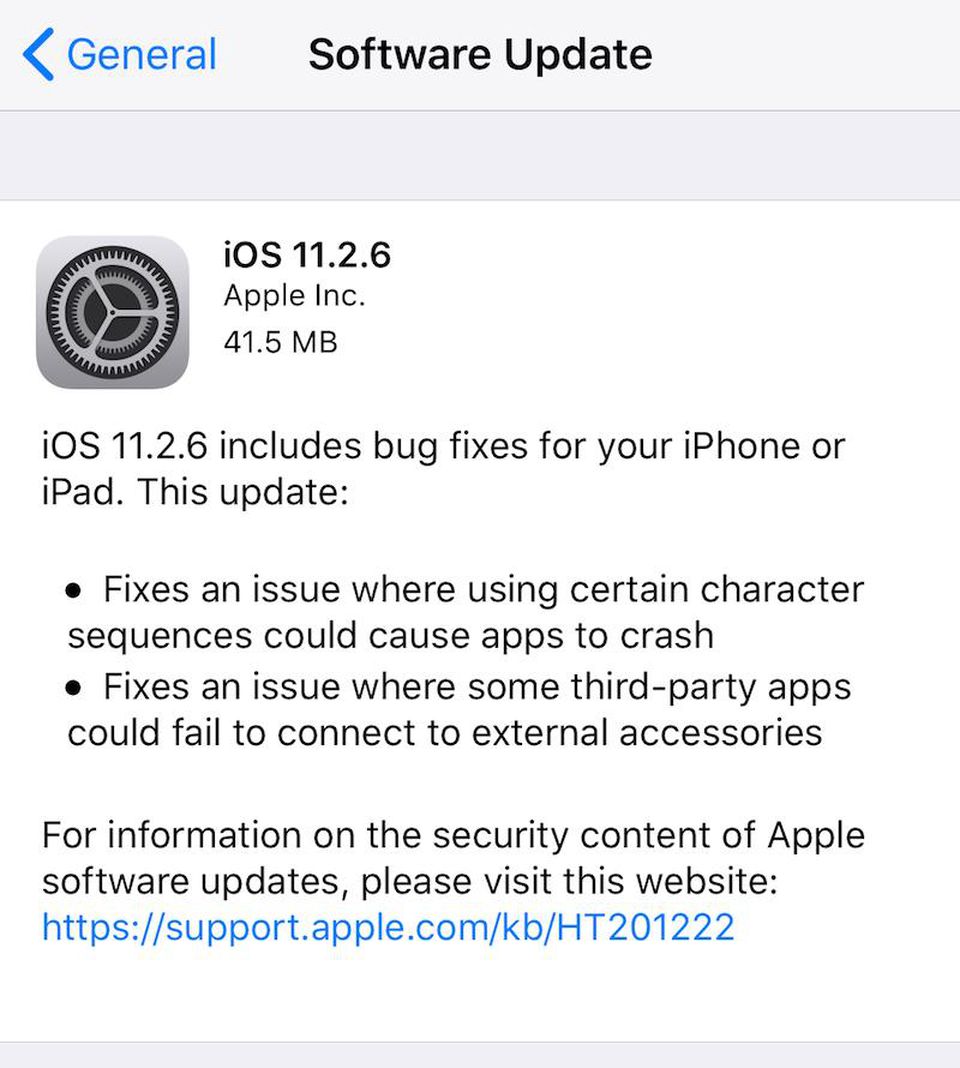 Today Apple released iOS 11.2.6 for the iPhone, iPad and iPod touch. iOS 11.2.6 did not go through any beta tests before it was released to the public. iOS 11.3 is currently being tested by developers.
What Is Included In The iOS 11.2.6 Update?
iOS 11.2.6 is considered a minor point software update so Apple did not add any new notable features to it. And iOS 11.2.6 is the eleventh update to iOS 11 following iOS 11.0.1, iOS 11.0.2, iOS 11.0.3, iOS 11.1, iOS 11.1.1, iOS 11.1.2, iOS 11.2, iOS 11.2.1, iOS 11.2.2 and iOS 11.2.5.
Apple's release notes for the iOS 11.2.6 update says that two bugs have been fixed for the iPhone and iPad. Apple said that the issue where a certain character in the Telegu language that could cause apps to crash has been fixed. And the other bug that was fixed involved problems where third-party apps failed to connect to external accessories.
After the Telegu character bug was discovered, many people exploited it as a prank against others. The bug did not affect versions of iOS prior to iOS 11.2.5.
Updates To iOS 11 Since The Launch
iOS 11.2.5 fixed a problem where a malicious GitHub link was used to cause the Messages app to freeze up. This problem was known as "chaiOS." To fix the problem, users had to do a hard reset on their device and it affected Macs as well. And iOS 11.2.5 brought new controls to the HomePod speaker.
iOS 11.2.2 was released in early January with a security update that was "recommend for all users." The security update contained improvements to Safari and WebKit that mitigated the effects of the Spectre vulnerability.
iOS 11.2.1 rolled out in mid-December with a fix for a bug that could disable remote access to shared users of the Home app. Prior to that issue, Apple disabled remote HomeKit access after it was discovered that the platform was vulnerable to exploits in smart door locks and garage door opener devices. 
On December 2nd, iOS 11.2 brought the Apple Pay Cash feature, fast wireless charging support, new indicators and wallpapers for the iPhone X and several bug fixes. That update was actually released ahead of schedule since a fix was needed for an unanticipated problem called the December 2nd data bug. The December 2nd bug caused devices to crash repeatedly if certain apps with local notifications were installed. 
iOS 11.1.2 included two bug fixes for the iPhone X. iOS 11.1.2 had fixed a problem that caused the iPhone X screen to become unresponsive after a rapid temperature change. And the other fix had to do with Live Photos and videos being distorted with the iPhone X.
iOS 11.1.1 rectified a problem that caused the keyboard to convert the letter "i" to an "a" with a question mark symbol next to it. And iOS 11.1.1 also resolved an issue where the "Hey Siri" feature was not working.
iOS 11.1 contained over 70 new emoji and the 3D Touch multitasking gesture was restored. And iOS 11.1 also had fixes for bugs that caused Live Photo effects to be played back slowly and caused Mail notifications to reappear on the Lock screen.
iOS 11.0.3 corrected an issue that was causing the audio and haptic feedback to become dysfunctional on iPhone 7 and iPhone 7 Plus devices. And 11.0.3 also fixed an issue that caused the touch input to become on unresponsive on iPhone 6s displays without genuine Apple parts.
iOS 11.0.2 resolved bugs that caused crackling noises in the earpiece of iPhone 8 devices. Plus iOS 11.0.2 fixed a problem causing attachments in S/MIME encrypted emails to no longer work. And iOS 11.0.2 also fixed a bug that blocked photos from appearing.
iOS 11.0.1 improved synchronization issues in Outlook.com, Office 365 and Exchange Server 2016 running on Windows Server 2016 in Apple Mail. And there were performance improvements for the iMessage app Drawer, Springboard, and App Explorer.
iOS 11, the eleventh major release of iOS, became available on September 19th, 2017. iOS 11 added a customizable Control Center, iPhone X gestures, indoor airport and mall maps, Do Not Disturb While Driving, a new Files app, document scanning in Notes and Live Photos editing.
iOS 11.3 Update Will Feature Performance Throttling Controls
In late December, Apple acknowledged that the company could have done a better job being transparent about its performance throttling involving battery degradation. So iOS 11.3 will contain an update that will allow users to decide if they want the performance of their iPhones to be throttled. 
Essentially Apple was intentionally slowing down the performance of iPhones with degraded batteries in order to prevent unexpected shutdowns. This was a controversial move because many consumers did not know Apple was doing this so they ended up buying new devices rather than replacing the batteries on their older devices. Apple had issued a formal apology for that issue, but over 26 class action lawsuits have been filed against the company.
"With a low battery state of charge, a higher chemical age, or colder temperatures, users are more likely to experience unexpected shutdowns. In extreme cases, shutdowns can occur more frequently, thereby rendering the device unreliable or unusable. For iPhone 6, iPhone 6 Plus, iPhone 6s, iPhone 6s Plus, iPhone SE, iPhone 7, and iPhone 7 Plus, iOS dynamically manages performance peaks to prevent the device from unexpectedly shutting down so that the iPhone can still be used," says Apple in a support page. "This performance management feature is specific to iPhone and does not apply to any other Apple products."
So iOS 11.3 will have a feature that will enable users to manually select whether to keep the iPhone performance working at full speed or not. And users will also be notified when the battery degrades to a certain level. There will be a new menu that will show information about the battery health as well.
For more, click here.